Over 400k paying customers

Intelligent analysis and product research
Essential Amazon Sellers Skills of Market analysis and product research methods
Real-time data from 12 major sites
Customers in 45 countries and regions
More than 40 invention patents, the first data analysis company invited to teach by Amazon
Amazon + Walmart
12 Amazon Sites, All Amazon Best Sellers Reports, Get just 1 click
Sales are monopolized or not, what the market trend is, it is clear


Try Now
Amazon + Walmart
12 Amazon Sites, 50 Data Dimensions to Sort to Do Product Research
New products, low ratings ratio or the average price month-on-month, and the expected future sales growth. One-click sorting can always find the blue ocean
Try Now

Data-based, rational product research
Based on Amazon's traffic principle, starting from competitiveness, intelligent big data processing. Meet the needs of sellers at different stages

The latest hot products, updated daily
Amazon's 12 major sites, the data of all popular items are updated daily. Help you trend selection

Industry's first, full category selection
A list of tens of thousands of categories, and any sorting of more than 50 dimensions. Market monopoly, trend, proportion of new products? Clear

Interpretation of competitiveness and efficient avoidance of pits
Competition is risk, see the opponent enter the market rationally. Three minutes to help you understand market risks
Star Product
Sorftime Save Plug-in
12 Amazon countries supported
Amazon Best Sellers
12 Types of Data Reports Depicting the Whole Market
Daily rolling update of data
Try Sorftime Save To Analyze Market
Sorftime quickly generates market reports based on big data intelligent algorithms.
Through these reports, we can quickly understand the market monopoly, whether there are big sellers or big brands, the number of reviews, review ratings, competitive product pricing strategies and other core elements to help sellers quickly assess market risks.
For Walmart daily update market competition trends
products ranking will real-time follow-up. At a glance, outguess market competition changes.


比网页插件版更强大
Sorftime 软件版
---
支持亚马逊平台、沃尔玛平台
行业首创全类目多维度排序选品
每周热搜关键词、反查流量关键词
最新上榜爆款、最新类目每天更新
比 Sorftime Save 更多维度的竞争分析图表
立即免费体验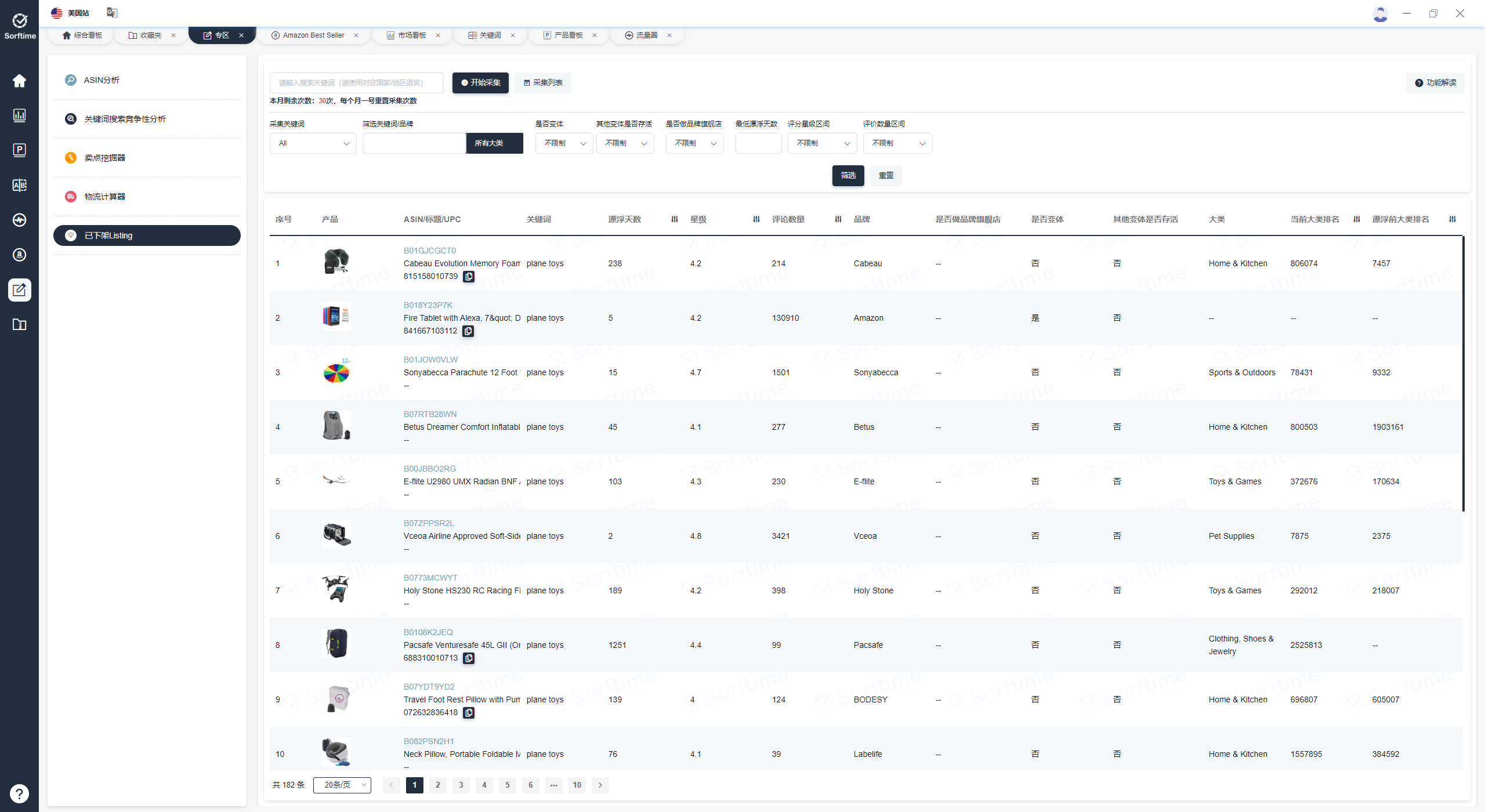 Sorftime
Sort + Filter + Time
Amazon seller product finding software
Asins
Software update daily
Big data
represents true Amazon Market
Paid Customer
Using Sorftime for Amazon
Seller Summits
Affecting 400k+ Amazon sellers product finding techniques
Software Supports 12 Amazon Marketplaces
United States
Japan
United Kindom
Germany
France
India
Canada
Spain
Italy
Mexico
United Arab Emirates
Australia
Sorftime Customer Reviews
Sorftime made product selection way easier and effective for me. There's nothing out there that visualizes the bestseller information and enables me to make calculates decisions on a sub category level up to 7 levels deep. That's impressive!——Cedric WilmansFounder of America-based Seller

Founder of America-based Seller Community
Cedric Wilmans
This is smart and the best product research tool I've used! Can easily help to find niche product in several clicks. Highly recommend!

Amazon seller
Koth Azza
Love Sorftime. Really good to help filter down to some categories ideas. I've checked Monthly Sales, maximum difference within 10-15%. I recommend Sorftime to anyone that asks and will continue to do so.
Amazon seller
Marsha Larsen
Sorftime is a software that infuses the seller's experience in selecting products. The logic and perspective of product selection are also the ideas of mature product selection experts. Sorftime is a software with "soul" and greatly improves the seller's market research and selection efficiency through the Internet and big data.

MoonSees CEO
Lin Pengxiang
The tenfold is not simply the increase of sales, but the thinking system and methodology of competitiveness from single competition latitude to multi-dimensional competition. The dilemma encountered by cross-border sellers today stems from the single competition mode of cross-border e-commerce, which focuses on price. The competition in the future is bound to be multi-dimensional. Sorftime directly improves the efficiency of our past product selection by more than three times, which helps us greatly optimize the operational efficiency and is a powerful weapon for us to build multi-dimensional competitiveness.
Trademap CEO
James