The intelligent analysis and product selection software


used by 400k e-commerce sellers

The market analysis and product selection methods essential for Amazon and Walmart sellers
Real-time data from 14 major global sites.
Our customers are spread across 48 countries and regions.

Sorftime Save Browser extension
Supports category analysis, product research, and keyword research for 14 major Amazon marketplaces and Walmart US, with direct front-end querying.
Try Now
Free trial for new users

Sorftime Professional
Supports 14 major Amazon sites + Walmart US site. category analysis, product research, and keyword research, an all-in-one comprehensive data platform
Try Now
Free trial of the demo version

Innovative multi-dimensional product research
Innovative product selection with over 90 data dimensions across all categories. It covers more than 10 indicator sections, including market demand, market trends, new product opportunities, capital costs, operational costs, after-sales costs, and gross profit margins.

Market competition analysis
Innovative methodology for market competition analysis, supporting over ten graphical data report analyses. How is the market competition environment? Is there any monopoly? What are the market trends? What are the key traffic keywords? All these are clear and transparent

Innovative cross-category analysis and research
The currently trending keywords are updated weekly, providing product reverse search keywords, sales history trends, competitor analysis, and comment trend analysis. Real-time analysis of keyword search results and one-click access to search trend analysis reports

Massive data, updated daily
Amazon's 14 major sites + Walmart US site, massive market and product data updated daily
Sorftime Save Browser extension
Directly embedded for use in browsers (browser extension), with simultaneous support for the two major platforms, Amazon and Walmart. Data analysis is performed synchronously while accessing the front-end web pages of Amazon/Walmart
---
Amazon Edition (Supports Amazon's 14 major marketplaces)
---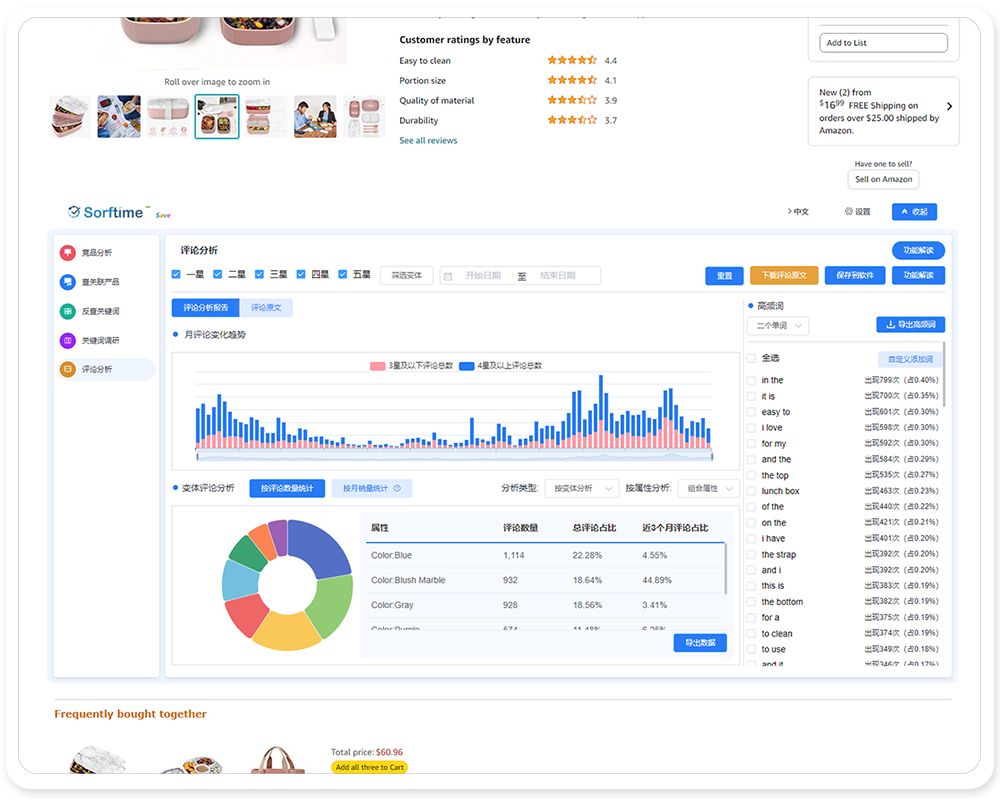 Walmart version (supporting Walmart US site)
---


Sorftime
Sort + Filter + Time
Standard operating and product research software for Amazon and Walmart sellers.
Asins
Software update daily
Data accumulation
depicting the real Amazon and Walmart markets
Customer
Using Sorftime for Amazon / Walmart
Seller Summits
The product research techniques that impact over 400k e-commerce sellers
Software Supports 14 Amazon Marketplaces
United States
Japan
United Kindom
Germany
France
India
Canada
Spain
Italy
Mexico
United Arab Emirates
Australia
Sorftime Customer Reviews
Sorftime made product selection way easier and effective for me. There's nothing out there that visualizes the bestseller information and enables me to make calculates decisions on a sub category level up to 7 levels deep. That's impressive!——Cedric WilmansFounder of America-based Seller

Founder of America-based Seller Community
Cedric Wilmans
This is smart and the best product research tool I've used! Can easily help to find niche product in several clicks. Highly recommend!

Amazon seller
Koth Azza
Love Sorftime. Really good to help filter down to some categories ideas. I've checked Monthly Sales, maximum difference within 10-15%. I recommend Sorftime to anyone that asks and will continue to do so.
Amazon seller
Marsha Larsen
Sorftime is a software that infuses the seller's experience in selecting products. The logic and perspective of product selection are also the ideas of mature product selection experts. Sorftime is a software with "soul" and greatly improves the seller's market research and selection efficiency through the Internet and big data.

MoonSees CEO
Lin Pengxiang
The tenfold is not simply the increase of sales, but the thinking system and methodology of competitiveness from single competition latitude to multi-dimensional competition. The dilemma encountered by cross-border sellers today stems from the single competition mode of cross-border e-commerce, which focuses on price. The competition in the future is bound to be multi-dimensional. Sorftime directly improves the efficiency of our past product selection by more than three times, which helps us greatly optimize the operational efficiency and is a powerful weapon for us to build multi-dimensional competitiveness.
Trademap CEO
James